18
Tuesday September 18th 2018
Staying in a hospital is a low point in anyone's life, no matter how good the conditions. Flowers are an excellent way to wish them quick recovery. Not only do they remind your loved one you're thinking of them, but they also brighten the space and create a good energy that can actually boost recovery.  Good Health. Even if your health isn't great, it could be worse and you likely still have some working parts to be thankful for. So send a "get well soon" bouquet to your friends.
A nice bouquet can thus make life somewhat easier for a recuperating patient. But is it always the case? Not necessarily. There are a few things that should be kept in mind while selecting an appropriate bouquet, whether you bring it by yourself or have it delivered to the hospital.  
Some hospital units, especially those that treat patients with lowered immune systems will not accept flowers. This will usually apply to intensive care and midwifery, as well as post-surgical wards and burn treatment. Some establishments have banned flowers altogether, so you should check with the hospital first before you order the flowers.
Avoid flowers with pollen that is exposed, e.g., lilies. Instead, opt for flowers which hide their pollen, such as roses, irises, carnations or chrysanthemums. Allergens are never a good idea in a hospital; even if the patient you're about to gift doesn't have allergies, others may not be as lucky.
Flowers with harder or wooden stems, such as roses, carnations, sunflowers or asters will be better than the ones with soft stems, like gerbera daisies or tulips. Those harder stems won't get soggy and thus won't require changing water as often, leaving doctors and nurses more time to do their work.
Consider a durable vase. A glass vase may cause a serious hazard when flipped. If you can't find a metal, wicker or plastic replacement, opt for a wide glass vase that guarantees stability.  
Posted by in Get Well Flowers
29
Phone calls, cards, balloons, and gifts are all traditional ways to cheer up a loved one who is ill; however, flowers do double duty, functioning as a way to convey your feelings and also as a sort of therapy for the sick. Many studies have shown that patients use less pain medication and are more positive with flowers and plants in their hospital room. There is even something called flower therapy, where flower essences are taken to alleviate stress and promote health and well-being. I am not at all surprised. As a florist, I see the happiness and health benefits of flowers daily. Nothing makes a person smile like receiving a bouquet of flowers. Are you having a trouble deciding on a get-well bouquet? Here are some great ideas.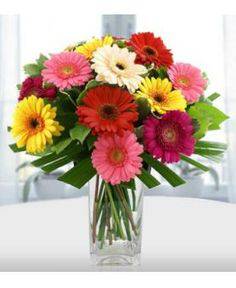 Think Health
When giving flowers as a get-well gift, the last thing you want to do is make your loved one feel worse. Stay away from plants that could trigger allergies and strong-smelling flowers that could induce nausea in someone already sick. Carnations, chrysanthemums, and daisies are good choices. Roses that have a light fragrance are also a welcomed choice; is there anyone who doesn't love roses? If you have a loved one who is in the hospital for just a few days, you may want to consider sending the bouquet to the home instead of the hospital; that way, there will be no stress of gathering up all of the flower arrangements and transporting them back home.
Posted by in Get Well Flowers
17
Wednesday August 17th 2011
Get well flowers are often sent when a friend feels under the weather. Bouquets can go a long way in improving someone's spirits when sick. These flowers often express best wishes for a speedy recovery time.
Best wishes floral arrangements come in many sizes and unique styles. They can be easily tailored to suit any special need or age group. Accessories can also be added to make the arrangement more special.
Posted by in Get Well Flowers