16
Everyone knows about birthstones, but did you know there are also birth flowers? Birth flowers are just as lavish as genuine birthstones at a fraction of the price; they are the ideal birthday gift. Tell a friend or loved one with a birthday this month that you are "glad" they were born by sending them an August flower arrangement full of some gorgeous gladioli birthday flowers! The bright, stunning colors of these flowers rival the beauty of any gemstone. Gladiolus, also known as sword lily is the August birth flower. Gladioli is the plural of gladiolus, often called glads for short.
August Birth Month Flower: Gladiolus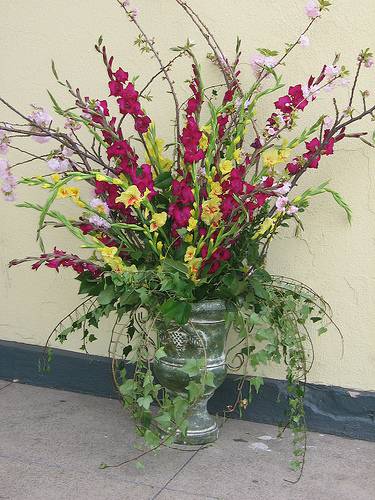 Image via Flickr by St. John's Flower Guild
Gladioli are an old fashioned favorite. I remember with great fondness traipsing through the rows of this August flower in my grandmother's garden. Glads make an excellent, long lasting cut flower, and my grandmother grew rows of them in the garden just for the purpose of cutting them and using them in floral arrangements. The August flower of the month has a 1-4 foot tall spiked stems loaded with full blossoms from one to five inches in diameter on one side of the stem. Flowers are clustered one on top of the other and they may bloom simultaneously or one after the other. There are 260 species of glads appearing in pinks, reds, purples, mauves, yellows, oranges, and white -- every color except for blue, and some are even bi-colored. There are miniature, giant, and ruffled versions of the August birth month flower as well. This flower comes from a corm, which is similar to a bulb, and blooms in July and August primarily but can bloom all the way into fall. Gladiolus arrangements make great centerpieces and focal points due to their tall spikes and showy flowers.
History of the Gladiolus
Posted by in General