13
Friday February 13th 2015
Does Valentine's Day have your heart fluttering because you haven't found your love the right gift yet? Don't panic: Make a gift yourself! After all, there is nothing like a homemade gift to show your sweetheart you have been thinking about them. Maybe you have never made a homemade gift and the thought of it summons up pictures of awkward grade school construction paper cards; perhaps the opposite is true and you think of Pinterest creations that had to have been made by trained professionals. There are several easy, attractive, and affordable gifts that you can make within a day. From romantic to fun, there is something for every valentine on your list.
07
Wednesday January 7th 2015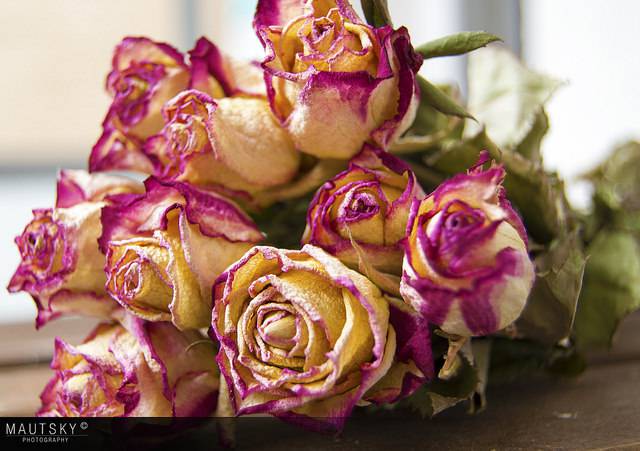 Photo via Maut Sky (Flickr)
Most of us have experienced the sadness of a dying bouquet, the decline of a beautiful token of love that we wish we could keep longer. A flower, after all, is one of the fleeting beauties of life, right? Well, it doesn't have to be that way. Dead flowers have a beauty of their own, and they have a multitude of uses. Dried flowers can be used to decorate the home, to adorn crafts, and to make bath and beauty products. So the next time you are faced with dead flowers, think twice before you toss them out.
20
If you are tired of looking at the same old plain, glass vases, then read on! With a little imagination and a few supplies, vases and jars can be transformed into beautiful custom vessels to hold your stunning bouquets. You may decide you like the vases so much that you want to use them all the time to hold dried flowers, pencils, or other objects. Here are a few DIY vase ideas to get you started.
Mosaic Vases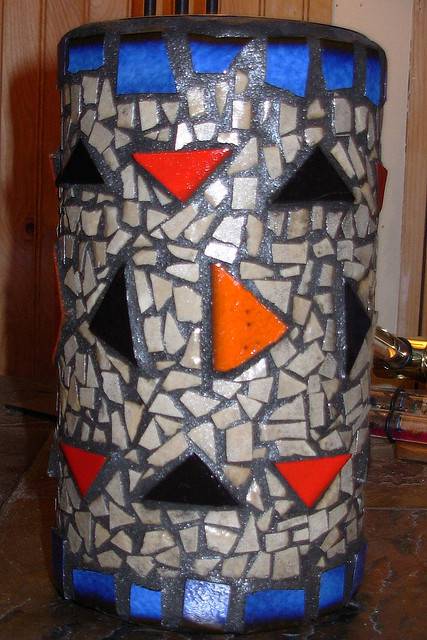 Photo via Sonia Newton (Flickr)
If you have always wanted to try your hand at mosaics, I recommend starting out with a mosaic vase. You will need an adhesive such as Weldbond, glass or pottery pieces, grout, a sponge, and a glass vase. You may want to draw a design onto the vase with a dry-erase marker. Then, spread the glue onto the vase and start placing your pieces of glass or pottery on the vase. You will want to place them somewhat close together. The glue needs to cure for at least 24 hours, and then you will apply the grout all over the vase, which can be bought dry or premixed. After 20 minutes, wet your sponge and carefully buff the grout off of the glass or pottery pieces. If you want, you can apply a grout sealer once the vase is completely dried.
29
Spring is here in full force, and flowers are everywhere! I don't know about you, but to me, flowers are just as beautiful as gemstones, and it seems a shame not to use them for adornment. Flowering branches, garden flowers, wildflowers, florist's flowers, and even silk flowers - all of these are suitable for making flower crowns. The methods and flowers for making flower crowns vary and depend on the purpose for wearing the crown, but no matter what the method, flower crowns are easy to make and are perfect for many occasions.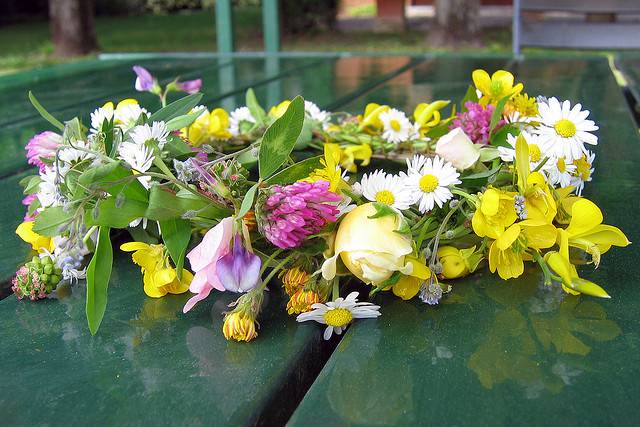 Image via Flickr by Lela Getzler
Simple Flower Crown
When I was a little girl, my friends and I used to make ourselves flower crowns out of the flowers we found on the lawn and in the garden. There are a variety of ways to make a flower crown. To make a simple flower crown just for fun, one of the easiest ways is to make a daisy chain and then attach the ends. To do this, you will need 15 to 20 flowers, depending on head circumference and flower type. Daisies, chrysanthemums, black-eyed susans, bachelor's buttons, and red and white clover all work well for this method. Ribbons and scissors or a small knife are optional.
27
Wednesday November 27th 2013
With the holidays fast approaching, now is the time to learn how to make a wreath! If you like making crafts and decorating for the holidays, you should try your hand at wreath making. Personally, I feel that making my own holiday decorations is one of the most enjoyable activities of the season. Learning how to make a Christmas wreath is easy; the hard part is deciding which one you want to make out of all the beautiful choices. Don't worry if you are new to wreath making-- wreaths can be as easy or as elaborate as you like. There is a wreath for every talent level. For those of you wondering how to make holiday wreaths, here are a few samples of wreaths along with instructions.
Evergreen Wreaths
It probably comes as no surprise that I love wreaths that use fresh greenery and floral elements. There is nothing like the smell of live Christmas greenery. If you have fir, pine, holly, boxwood, or other evergreens, you may want to learn how to make a Christmas wreath yourself from scratch. You will need a wire wreath frame; an average sized wreath requires a 10-15 inch diameter round wreath frame. These can be purchased at craft stores, or you can make your own. You will also need strong twine or wire for binding the sprigs to the frame. Once you have your supplies, cut sprigs from your tree or shrub that are 4-6 inches long for an average sized 15 inch wreath. Attach the twine or wire to the frame and then start tying the sprigs onto the frame securely, overlapping sprigs until the wreath frame is completely covered. If you don't have any suitable evergreens of your own, don't worry! Most places that sell Christmas trees sell greens as well, or you can find them at garden centers.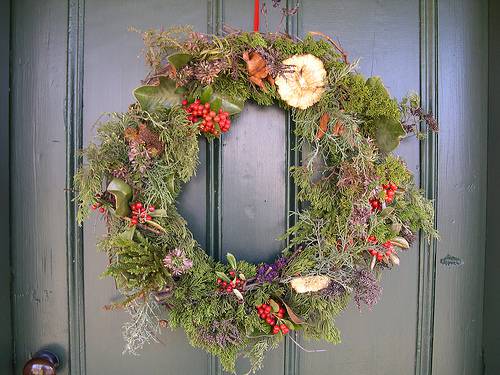 Image via Flickr by Elizabeth
24
Tuesday September 24th 2013
Last month I wrote about the different methods of drying and pressing flowers and I touched on some crafts that you can do with preserved flowers. This month I will share more ideas on how to use dried and pressed flowers to make spring and summer last all year. There are so many ways that you can use preserved flowers in your home that it is difficult to cover them all, but here are a few ideas to get you started.
Dried Flower Decor
Using dried flowers to create everlasting dried flower arrangements is probably what first comes to your mind when you think of dried flowers, but think outside the box: weave or hot glue dried flowers to a grapevine wreath or use an interesting container, such as a hollowed out pumpkin, to place your dry flower arrangements. Half baskets with a flat back that are made of wicker or metal look great stuffed with dried flowers and are easily hung on the wall. Personally, I like to use cake pedestals with dried flowers such as roses or sunflowers scattered on top as a table centerpiece.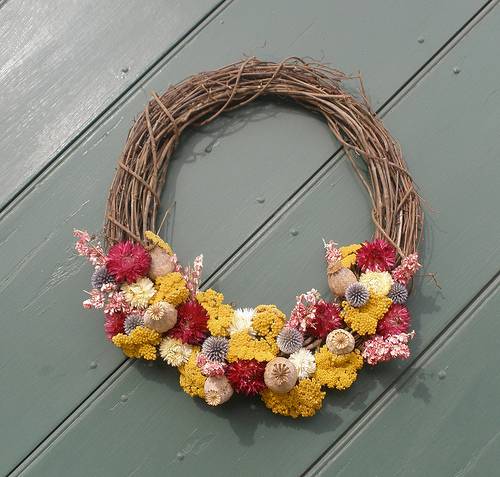 Image via Flickr by Tony Alter
Pressed Flowers under Glass
Pressed flowers and foliage can be arranged into beautiful scenes and placed in frames. You will want to arrange the flowers and foliage first without glue to know what looks best. When you have them the way you want them, use tweezers to hold each delicate flower while applying tiny dots of white glue to the back with a toothpick. Press them into place on the paper; layering gives a realistic appearance. Slide into the frame and enjoy. You can also apply the flowers directly onto the back of a glass frame for a sun catcher effect, but the sun will eventually fade the colors of your dry flower arrangements.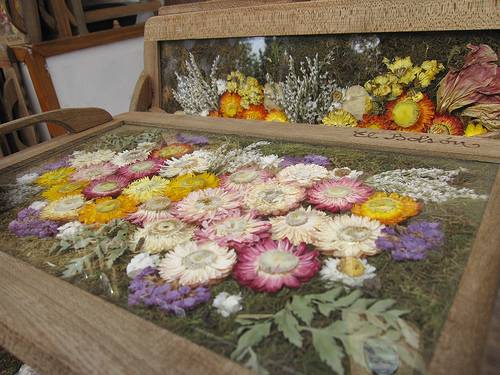 Image via Flickr by Uncorrectedproofs