14
Thursday November 14th 2013
Fall is in full swing; the cold, dreary weather has set in for many of us and during this time of year sending flowers is the perfect way to brighten a birthday. The November birth flower is the chrysanthemum, and I am always reminded of the bright summer sun when looking at this flower. The name Chrysanthemum, in Greek, means "golden flower" as chrysanthemums in ancient times were mostly yellow. The meaning of the chrysanthemum is "with love and cheerfulness". In the Victorian language of flowers, sending someone a chrysanthemum sends the message "you are a good friend"; how perfect all of these meanings are for a birthday?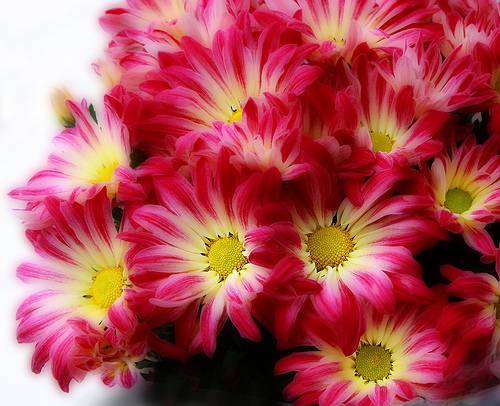 Image via Flickr by Colin
Birth Flower for November: Chrysanthemum
The chrysanthemum, or mum, is synonymous with fall, largely because it is one of the few fall blooming flowers. I imagine this is why it was chosen as the November birth flower. It also comes in fall colors of creams, yellows, oranges, purples, and dark reds, although it comes in white and pink as well. This November flower is actually made up of a great number of tiny, separate flowers called florets. The center disc is made up of short, small florets tightly clustered together and is surrounded by long ray florets. The central disc is not always obvious. There are many different forms of chrysanthemum flowers, such as anemone, pom pom, spider, quill, spoon, single, reflex, and incurved. The flower forms can differ from one another so much that sometimes they look like completely different flowers; I especially love the incurved flower form, which is featured widely in traditional Chinese art.
Posted by in Birthday Flowers
17
Wednesday August 17th 2011
Birthday flowers have long been a popular choice for sending gifts. These are often sent with a card containing a message of best wishes. These may be sent to one's workplace, or delivered to their home.
There are few limits to what kind of flower may be used for bouquets. Birthdays often mean bright blooms but there are many more options. Specialty designs may also be created to make the special day perfect.
Posted by in Birthday Flowers